The magic of unstitched cultural stamp called the Saree by Sarees are my passion
India is rich in art, crafts, culture, heritage Royal history, tradition, the architecture of course in intricate textiles as well and the history of saree is traced back during Indus Valley Civilisation.
Based on varies religions influences a saree is called by names such as sari, shari, chira, or Shadi. and ahead a saree is divided into five important segments namely the main body of the saree or also called as the base of the saree. Secondly border, thirdly the most decorative part of the saree is the pallu or also called as the falling edge of the saree in times called as the head piece. Fourth blouse(unstiched garment) which sometimes comes woven with the saree and lastly tassels or Kuchu.
A Saree is nothing to do with religion, caste and creed. The best part of this saree is one size fits all, so you never have to worry about sizing and measurements unlike the dress. But you get 6, 8 and 9 yards sarees.
In India, Saree is worn daily as well and especially during auspiciousness occasions like big fat weddings and other rituals like haldi, engagement, temples, festivals, house-warming ceremony and a baby shower as well.
Due to diverse culture and influence, each and every religion in India have their own style of draping this gorgeous Saree in South India Tamil Nadu state we have the popular Madisaru style and Pinkosu, from Karnataka we have something like traditional drape Bootheyara and Coorgi style. From the land of God's own country Kerala the outstanding Tattdukuka style and Namboothiri. The most relaxed Goan style is Kunbi drape. Much prominent drape is Nauvari style from Maharashtra. Renowned drape from Andhra Pradesh is Kaccha Kattu, Venukagundaram and Gochi Kattu drape.
The most outstanding sarees are Mysore silks, Ilkal, traditional Molakalmuru, luscious Chanderi, handcrafted Kanthas, God's own country Kasavu, traditional Madurai sungudi sarees, grand Gadwal cottons, Queen of silks called as handwoven Kanjivaram, luscious Chanderi, rustic Kalamkari, chequered weave Kota Doria, new age seamless linens, classic Banarasi and so on...
Saree is not just a product to sell, it is a masterpiece of art which travels across the globe!
Visit Sarees are my passion on Youtube
Massive fan following for KSIC Mysore Silk Saree
Massive fan following for KSIC Mysore Silk Saree

A gamechanger I can say, this traditional attire which is still one of the most expensive sarees which is ruling the state. Century plus old and still rules the parties and auspicious festivities beyond it, a crazy fan base, are you curious to know what's the secret behind this Massive fan following, unlock the hidden truth by watching this video.



Pochampally Sarees and Fabric
Pochampally sarees are sheer delight for women! Magnificent Pochampally saree is called by varies names such as Pogudubandhu or Pochampalli Ikat, is a saree crafted in Bhoodan Pochampally, Yadadri Bhuvanagiri district, Telangana State, India. Pochampally, the village was renamed to Bhoodan Pochampally. This small traditional handloom village magnificently showered and surrounded by hills, lush green fields, temples, Pochampally makes up for an exciting destination to spend one's heart. This village is around 45Km away from Hyderabad.Telangana is one of the ancient Ikat weaving centers in India.Pochampally Ikat sarees was mainly popularized during 80's.Pochampally silk saree boasts of blending comfort and popularly known as tie and dye weave, one can see century old traditional looms here.



Watch Video: 61 Why Sarees are my passion || Big-Picture || Roadmap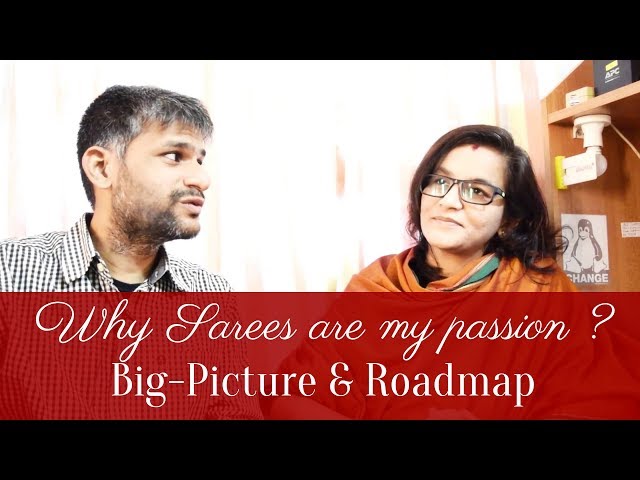 * Click the image above to watch this video on Youtube ↗
Begampuri Cotton Sarees

The irresistible Handloom saree, that drapes like a dream

Indian textiles are rich in artefacts, Begampur is a small town in Hooghly district in West Bengal, the sarees woven here carries deep and bright colours. The economy of this place depends on textiles and also famous for dhotis. What reminds everyone when you say Bengal is handwoven cotton sarees and is the center for fine cotton weaving and these Begampuri cotton sarees are known for loosely woven light-weight and translucent and are extremely comfortable to drape. These cotton beauties would take one to two days to weave which are very simple ones and more intricate designs could even take five to six days to complete, although the saree fabric named after the city, the subtle madness look after wearing them is absolutely sophistigated.




Tant Sarees

Traditional flawlessness crispy weaves to flaunt

What reminds everyone when I says Bengali is mouth watering and luscious dessert 'Rasgulla' and 'Mishti doi' to name the most popular ones in the list and of course Bengali cotton sarees. The medium of communication here is Bengali. The traditional attire of Bengali women is simple forms of these Tant sarees takes around two days to weave and more intricate designs could even take five to six days to complete a saree. Generally Tant saree comes in pastel shades with beautiful thick borders.

The history Tant, particularly the Jamdani and muslin became famous during Mughal era, but the British wanted to destroy the cream of art, to safeguard the textile industry they followed the direction which was given by Royal hands. The partition of Bengal province of British India and departure of British from India many skilled weavers, masterweavers they had to settle themself in beautiful places Nadia, Burdwan, Hoogly of West Bengal the incentive, aid provided by the Government, this is how the new seed was grown and become famous.




Baluchari Sarees

Invoking the magic of spectacular, Baluchari sarees

This beautiful garment is worn by women across India and Bangladesh. The origin of these sarees and roots dates back in Bengal, later produced in Murshidabad, but currently 'Bishnupur' town of 'Bankura district' and its surrounding places of West Bengal. Baluchar town from where it derives its name as Baluchari sarees. This marvelous place is famous for its exquisite terracotta temples and Malla Shree Krishna Raslilla. Beautifully made 'terracotta craft' is well known in this place. People here predominantly speak Bengali.




Ilkal Cotton and Silk Sarees
Contemporary Ilkal sarees goes on a delightful weaves!

The most down to earth yet vibrant colors are seen in traditional attire of Ilkal, Ilkal is a small town, this town is located in the South-East part of Bagalkote district, Karnataka state, India. This place is very hot during the summers but has a pleasant weather during the winters. The language of communication here is Kannada. Ilkal was an ancient weaving centre and known for renowned handloom sarees. The main source of income comes from the 'Red granite' which is exported all around the world, while Ilkal sarees are secondary source of income for the people residing over there since generations. The availability of local raw materials helped in the growth of this saree.



Watch Video: 8 My mom's 1977 Wedding Bangalore Silk Saree
* Click the image above to watch this video on Youtube ↗
Kalamkari Applique artwork
Kalamkari Applique work: A story or a theme is being narrated in the form of patch art called Applique. Applique art dates back centuries ago, Applique work is one of the oldest forms of design in the world and still are used across the globe. Applique is a art decorating one fabric to other which includes Layering, patching, applying. What I noticed is that, they use straight stitch or running stitch, these two are very commonly used stitches practiced while attaching Applique patches on a base fabric.

Applique work is used extensively in quilting. You can see in my portrait, yellow cotton saree, this meticulous piece of art called 'Kalamkari Applique work' (machine embroidered applique) I feel like I'm standing in an art gallery, I loved the art involved in it, its makes me fascinating! This exquisite art work can be created in fabrics, plastics, metals, paper etc.




Kasuti embroidery

Folk art of Karnataka-Kasuti Embroidery, Sarees are my passion

Graceful Mysore silk, traditional Ilkal sarees and one of the intricate hand embroidery called Kasuti embroidery hails from Karnataka, the word Kasuti is split across two words Kai which means hand and Suti meaning cotton, the activity which is done through cotton and hands. It was used on everyday apparels. Kasuti Embroidery is been given Geographical Indications, Karnataka Handicrafts Development Corporation(KHDC) holds a Geographical Indications(GI) protection for Kasuti embroidery.




Phulkari embroidery

Fascinating art- Phulkari embroidery

Embroidery being a needle craft, with colorful yarns to make varies design and patterns and to enhance the beauty fabric, this beautiful ancient handmade embroidery called Phulkari, is from Punjab, which is regarded as very auspicious for brides during marriage ceremonies and newborns.



Watch Video: 19 Party Wear Supernet Sarees - VLOG - Sarees are my passion
* Click the image above to watch this video on Youtube ↗