Ethnic Indian Sarees :: Kanchi Cotton Sarees
Written by: Bindu Lakshmi Kankipati - Published: 31-Mar-2017
---
A touch of tradition, Heritage cottons from the city of thousand temples
Colorfully yarns woven on a handloom by the weavers of Tamil Nadu, this sarees hails from the temple city 'Kanchipuram', well Known and called by many names Kanchi, Kanjivaram, Kanjeevaram and Conjevaram. Kancheepuram district is situated on the north east coast of Tamil Nadu. Kanchi cottons are distinguished by beautiful motifs woven, handwoven sarees are soft, airy and yet comfortable. Silk and cotton sarees of Kanchipuram are inspired by the temple designs.
The main body of the saree is either plain, striped or checks patterns, these handloom sarees are soft, airy and comfortable to drape. One can wear for daily casual, corporate office or for a college and most loved by teachers, lectuers and professors.
Classy border
The borders are always in perfect contrast tones, few known and noticed borders are Hamsa with horse border, bavanji border, tissue border, striped border, Vanashringaram border, Shikargarh border , temple Border, ornate Border and Ganga Jamuna borders.
Blend of shades
Most popular shades of hues are summer yellow with violet, mustard with red, grey and blue, exotic yellow-green, orange and magenta, mustard and green, pink and peach, the classy magenta and black, black and chocolate brown, parrot green and magenta, purple on red, burnt orange on green, off white with red, these are few popular ones.
The traditional touch of motifs
Few classy motifs are Annapakshi is known as swan, neelambari motifs, paisley motifs , hamsa, deer motifs , mayil chakram motifs , parrot motifs, elephant motifs , peacock, rudraksha and temple motifs, diamond motif, vanki band motifs, and aramadam Motif.
Fabric care for Kanchi cotton sarees
Do check out for specific care instructions on the garment tag once you purchase and follow the instructions carefully, in addition to it, here are certain guidelines:
First few washes its recommended to give for preferably dry clean
If washing the saree at home, do not squeeze or wring the saree
Use only mild detergent and dry the saree in shade
Iron on reverse side of the saree
If required one can starch the saree as well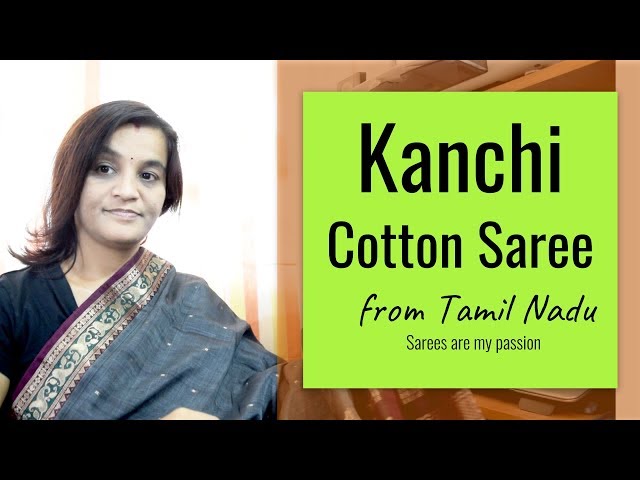 * Click the image above to watch this video on Youtube ↗