Ethnic Indian Sarees :: Printed Silk Sarees
Written by: Bindu Lakshmi Kankipati, edited by: Kiran Kankipati
Published: 03-May-2017
---
Silk is one of the oldest fabrics in India, it was only used in royal garments these days everyone are able to afford it, because of its cost-effectiveness and contemporary look. Printed silk refers to a length of silk yarn or a silk fabric, which consists of patterns and designs in the form of prints on them. Printed silk initially showcased a number of unusual motifs such as geometric prints, splash of color and lately introduced in fine art in India. The motifs and prints of printed silk is being influenced from Bollywood, pop-culture and creative modern art. You can see prints on silks that have diversified over the years and modern sarees and other ethnic Indian garments that are created specifically to cater to younger. What I noticed in printed silk is it is flawless, more versatile, lightweight, contemporary and a statement attire. Warli print(tribal art) is being incorporated in printed silk. Recent trends on printed silk being used in varies products such as suit pieces, dupattas, stoles, crop tops etc This is my mom's twenty-one year old saree, you can see in the portrait emerald green saree, you can see the flash of colors which are inspired by pop art, used colors and themes. The second saree is chocolate brown, white and Floral prints and pink. The chocolate brown and half white is been inspired art from floral prints, after seeing these sarees what I remember is my childhood crop tops with floral prints, it gives a pleasant and feels like a fairy tale!

How do you drape this saree and give a 'mesmerizing look' any guesses?? This gorgeous emerald green saree blends with fuchsia pink colour blouse you can add embellishments for blouse and choose boat neck blouse, add ones to this you can statement neck pieces. Hair style, you have a option to go with messy hair bun or leave your hair for a sleek look. The current trend is certainly pointing towards matte look for your face. Go along complementary long shimmery earings.
Fabric care
Since the fabric is delicate, best option is to give for dry cleaning to avoid color bleeding.
One can do a gentle steam iron at home, avoid spraying with water while ironing, it may led stains.
Change the saree folds after every use.
Natural fibers to breathe, always store the saree in a pure soft cotton cloth.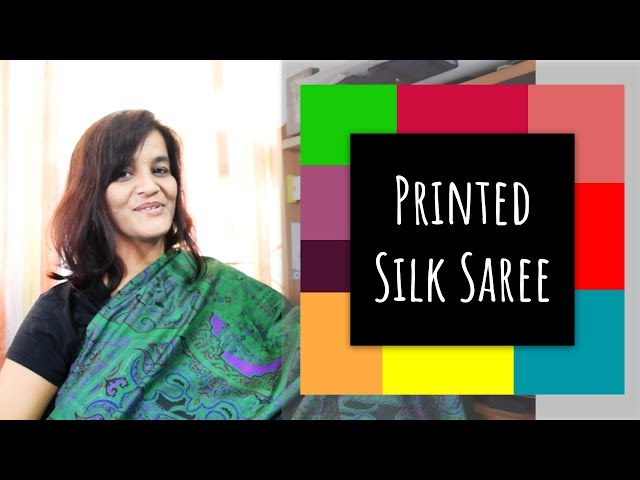 * Click the image above to watch this video on Youtube ↗
---