TALES 》 Dharmavaram Silk Sarees
Lavish "Saree of Bride", mulberry silk Dharmavaram
A beautiful city in Anantapur district, Andhra Pradesh state, India known for its renowned cotton, splendorous silk weaving industries and leather puppets, Dharmavaram. According to the history notes, name of the city Dharmavaram ,has been named after 'Dharmamba', who was the mother of Sri Kriyasakthi Odeyar (person, who built the first tank in the region). The economy of the town is dependent on the weaving industry. Natives of this place speak Telugu(regional language). Dharmavaram sarees is been registered as one of the geographical indication from Andhra Pradesh.
Paintings on the roof wall of 'Lepakshi temple' and 'Latha Mandapam' depicts the designs of Dharmavaram sarees, one can charish the royal majestic look of Dharmavaram sarees in two mediums such as cotton sarees and silk sarees. The main body of the saree carries seamless pattern damask motif commonly or in some cases one can see full gold plated zari with parrots, peacock, floral, marigold, knit motifs, buttis all over body enriched by a dark shades of hues, in rare cases you see 'buta meena work'. Dharmavaram sarees may have broad borders ranging from 4 to 7 inches with gold brocade patterns and butta designs.
The pallu(falling edge of the saree) is outstanding as it represents, statement of royalty, carries heavy butta zari brocade and broad borders which matches for weddinglines, heavy motifs and small buttas. Dharmavaram silk sarees are world famous and they are even exported to other countries. These sarees are woven in interlock-weft technique. To weave one masterpiece saree, it may take nearly four to eight days exquisitely handcrafted Dharmavaram saree.Heritage hues such as parrot green paisley lavish bold brocaded gold patterns, neelima royal shade glittering with canny yellow, magenta with green turquoise, royal pink blossoming lotus paisley with authentic zari and mesmerizing golden mustard a perfect shade for your wedding, are some of the best shades one can love.
Saree is still considered to be the most sacred apparel at the time of worship, religious ceremonies, marriage, and festivals since it is woven and not tailored. Since these sarees are very heavy and one can wear them for spring time functions, big fat Indian wedding, traditional and religious ceremonies, loved and also looks graceful for Indian classical dances such as Bharatanatyam and Kuchipudi dancers. Based on younger generation tastes, new trends of modern day Dharmavaram sarees are embellished with decorative stones, chamki, sequins and kundan.
Leather puppets are brilliantly crafted puppets are made from goat-skin, gods and other heroes depicted on deerskin, and demon puppets are made of buffalo hide so that's how its been done. These puppeteers are used in theatre performance.
Watch Video: Tollu Bommalata theatre art leather puppeteers of Dharmavaram: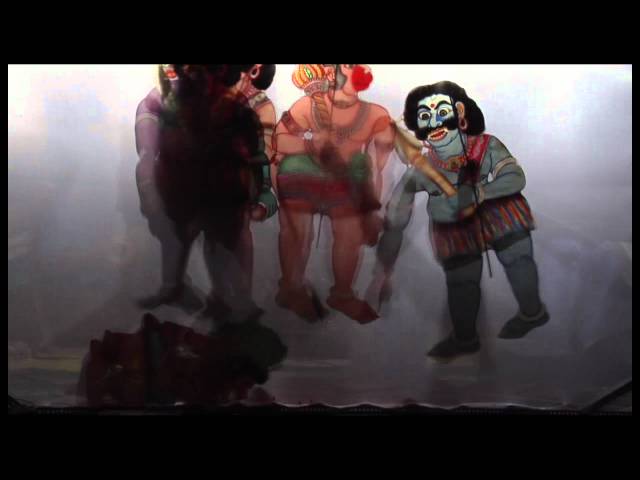 * Click the image above to watch this video on Youtube ↗
How to identify authentic Dharmavaram saree:
One can test the authenticity of the silk by burning few threads of the saree, if it burns like hair without leaving a residue, it is genuine silk.
Dharmavaram sarees are seen in contrasting border and gold zari with broad pallu, that's the uniqueness.
Maintenance: Since Dharmavaram sarees carries heavy gold zari and lavish Jacquard, it is recommended to be given for dry cleaning and gentle ironing.