Ethnic Indian Sarees :: Patteda Anchu handloom cotton Saree
Written by: Bindu Lakshmi Kankipati - Published: 17-Nov-2017
---
Life to the an­cient looms an exclusive weave Patteda Anchu, Sarees are my passion
I remember and recollect my childhood memories, I was just nutty about cotton sarees and fabrics, not only for comfort but for simplicity. I always love to be seamless in the crowd! My passion grew regardless of the age for hand-loom sarees, today I'm here to share one more simple weave from Karnataka called Patteda Anchu handloom cotton saree.
Traditional hand-loom sarees from Karnataka are Ilkal sarees, Molakalmuru sarees in addition to it Patteda Anchu cotton saree which joins the loop, these simple weaves is from Gajendragarh village in Gadag District.
Presently Patteda anchu saree is woven in cotton medium, based on the color and designs they are sub-divided namely:
Patteda anchu plain cotton saree
Patteda anchu checks cotton saree
Patteda anchu saree what makes this simple saree so unique? Borders and check patterns with healthy color combinations which makes these saree appealing. It has slightly course cotton texture and broad border and very few ones have Ganga and Jamuna border as well. Impressive colors and combinations which are seen at present are Blue-Black, Black-Red, Magenta-Yellow, Purple-Yellow, Red-Mustard, Brown-Purple, Blue-Black, Green-Purple although it is limited addition of colors but all shades are just mind-blowing. Some sarees of these have plain weave and few others have checks. These traditional sarees are woven in kuni magga generally referred pit looms. Further I will be adding more details on this stay-tuned!
Watch Video: 57 Top 5 Sarees from Karnataka || Sarees are my passion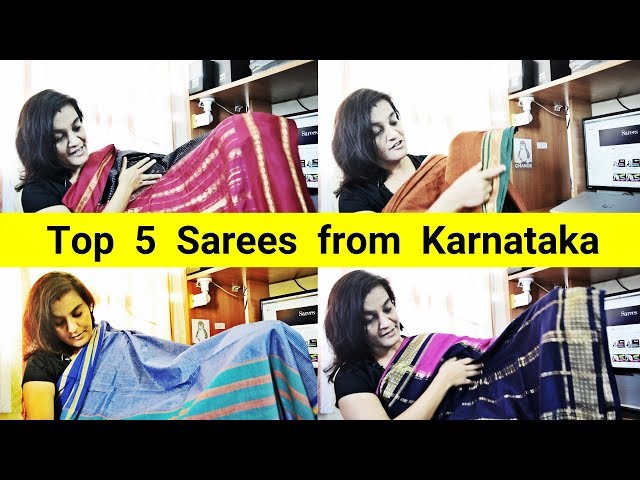 * Click the image above to watch this video on Youtube ↗
Fabric care/Maintenance for Patteda Anchu cotton saree
Do check out for specific care instructions on the garment tag once you purchase and follow the instructions carefully, it addition to it, here are a certain quick checklist
Recommended for dry clean
If washing at home recommended only to use cold water to wash the fabric, wash dark and light colored ones separately
Do not bleach or soak the fabric
Do not brush or lash a cotton saree
Do not wring or squeeze the saree
Use good quality, mild detergent to wash
Once wash cycle is done, dry the fabric in shade to prevent the color from fading
Never put naphthalene balls and other repellents in direct contact to these fabrics while storing
One can steam press and iron the fabric, in a medium-low heat
Use padded hangers to avoid wrinkling these sarees