Ethnic Indian Sarees :: Khesh Cotton sarees
---
The art of blending of old and new?
Craving for summer fruits is a must for some like me haha Peaches, the juicy Mangoes, cooling Watermelons what not and what about pairing a perfect outfit the saree for this season is also very important how many of you agree with me? So let's get started, guess what today I would be taking to West Bengal? The guesswork starts ... is it Baluchari, Tant, Begampuri sarees or the brilliantly woven Jamdani, nope it's one of the artistic weave called Khesh sarees.
Khesh is one of the oldest types of weaving which was originated in a small town Santiniketan in Birbhum district of West Bengal, India I felt something mystery which is involved when I touched the fabric so I was digging down deep about Khesh weaving, I found out something interesting to share, to be frank, I never knew it was a blend of old fabric which has been washed and being recycled to get a new version!
Available in mediums such as

Khesh Cotton saree
Khesh Silk saree
My first impression on Khesh cotton saree?
Since I am a cotton freak, I was in a hunting mindset to buy something very jazzy, so I picked up Khesh cotton saree, this fabric is a bit heavy, it was a half and half blend plain weave with prints as well. I really loved the weave. One can wear this saree for party or for a summer days and I would definely recommend to own one!
How did I feel when I draped authentic Khesh cotton saree?
It feels soft in texture and coarse as well
A bit heavy
Easy to wear and effortless
I wore this saree for an event for longer duration and it's so much comfortable
It's opaque(not transparent)
Breathable summer and winter wear
Embellishments are done on Khesh sarees
Some sarees in Khesh are plain and some comes with additional artwork done as well
Block Printed
Printed(Half and Half)
Mirror work
Hand Woven Kantha work
Khesh products are being diversified It is not just limited to Khesh saree but also have diversified there products such as Khesh jackets, Khesh Dupattas Khesh bags, Khesh salwars, Khesh kurtas, Khesh bags, Khesh shirts, Khesh pants, Khesh table mats, Khesh bedspreads Khesh dresses, Khesh jackets, Khesh curtains and table runners as well.
Watch Video: Khesh Cotton Saree - Art is you - Sarees are my passion video: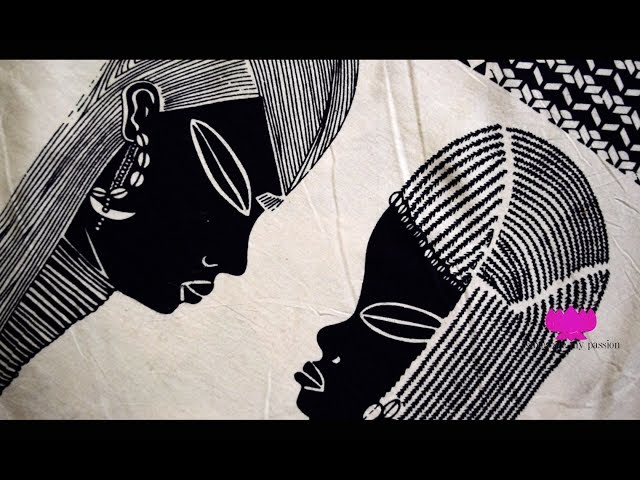 * Click the image above to watch this video on Youtube ↗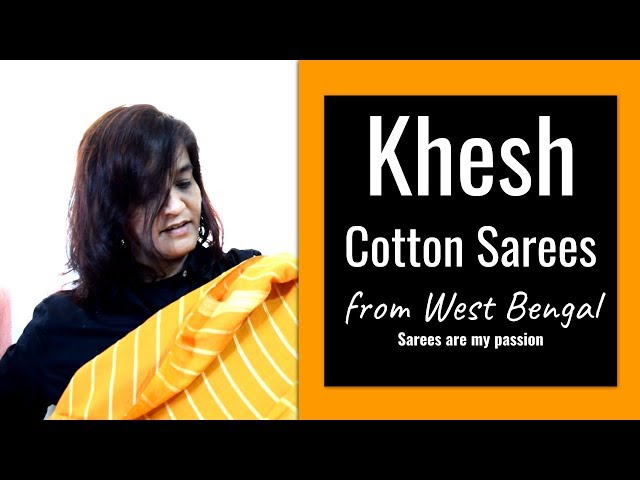 * Click the image above to watch this video on Youtube ↗
Here is me wearing the same Khesh Cotton Saree shot in the video:

if you are running a Saree Venture or looking to start a new Saree Store, Saree Boutique, Online Business, wish to start and grow a successful business, you can advertise with us !
consultation services and support regarding Saree business, product strategy, business positioning, guidance and mentorship
if you are facing issues in your Saree business and looking for Counselling and professional assistance
or if you wish to Partner, Collaborate & Sponsor
Contact us: HERE
---
Suggested Topics:
Andhra pradesh (and Telangana)

Chirala Cotton and Silk Sarees

A Coastal town, situated in Prakasam District in the state of Andhra Pradesh called Chirala, this town was also known as 'Kshirapuri'. Chirala town is renowned for handlooms. Years passed by, the town gained popularity for its excellent handloom sarees known for the softness and durability. The name Chirala means saree in Telugu and so eventually the name of the town got transformed to Chirala. Main occupation of this village is handloom weaving and paddy cultivation.

The weavers of Chirala produce, cotton sarees, seico sarees which are a fine blend of cotton and silk fibres and kuppadam(Gadwal type), Generally in Chirala they use 'Fly shuttle loom' is been used. Handloom fabrics of Chirala are soft and most comfortable to wear which suites all the climate, hand butta is another fascinating design feature of Chirala sarees, where colours are manually added in-between the zari design. This artistic lineage is carried forward by the weavers belonging to areas like Devanga, Padmasali and Pattusali community of weavers community.




Mangalagiri Cotton and Silk Sarees
Mangalagiri Sarees and Fabrics are produced by performing handicraft weaving in Mangalagiri, a town in Guntur district of the Indian state of Andhra Pradesh.Mangalgiri was always known for its pilgrimage importance because of the famous temple of Lord Panakala Narasimha Swamy that is located in the heart of the town. Mangalgiri located 12 kms away from Vijayawada. It was registered as one of the handicraft in the geographical indication from Andhra Pradesh by Geographical Indications of Goods (Registration and Protection) Act, in the year 1999.




Narayanpet Sarees
The Gods, Goddesses and Narayanpet sarees

This Beautiful small little town is renowned for exclusive splendid handloom silk and cotton sarees, Narayanpet in Mahbubnagar district, Telangana state, India. Primary source of income for people here is from weaving sarees. This charming place is extremely hot in summer and cold in winter. Since it's a business hub for sarees people known many regional languages such as Telugu, Kannada, Urdu, Marathi and of course English as well. Narayanpet sarees is known for its durability, affordability and lower maintainance. In this modern age of Indo-western twist and fast fashion outfits, Narayapet saree still remains classy.




Gadwal Cotton and Silk Sarees (Kupadam or Kumbbam sarees)
The Empire of south, traditional handloom Gadwal sarees

I was listening to "Keith Urban-Little Bit Of Everything" how pleasant it is ha? I want little bit gold, earthy cotton and lavish silk of everything, flashed me glorious Gadwal saree, which has little bit of everything! Gadwal a place known for harmonious coexistence of the cultures, situated between the rivers 'Tungabhadra' and 'Krishna' of Mahbubnagar district, Telangana state, India. Gadwal is one of the popular historical places to visit around Hyderabad. Gadwal fort or Nalla somanadri fort, built during 17th century by the gadwal ruler Peda Soma Bhupaludu(Somanadri) is a cultural heritage landmark. Gadwal fort was constructed with huge walls and moats around the fort which made the Gadwal fort very strong and impregnable since its construction with huge walls all around, this fort has three ancient temples namely Sri Chennakesava swamy temple, Sri Venugopala swamy temple, Sri Ramalayam and Sri Chennakesava temple is grand with large temple tower, stone mandapa and beautiful carvings.




Kalamkari Sarees and Fabric
Kalamkari or qalamkari is a type of hand-painted or block-printed on a Cotton Textile or Silk Textile. Produced in India, Iran. The Name Originates in Persian, from the words qalam (pen) and kari (craftsmanship), meaning drawing with a pen.




Venkatagiri Cotton and Silk Sarees

Venkatagiri sarees or Rajamatha sarees.

Venkatagiri is a small town situated in Nellore district, Andhra pradesh state, India. History of venkatagiri sarees dates back to 1700s, during the rule of Venkatagiri, the masterweaver handcrafted these sarees, specially curated for queens, royal ladies and zamindaris. these sarees were purchased for such handsome amounts that the weavers could survive with that sum of money for almost a year until they got their next order. Exclusive designs were made by the weavers on special order for the upper class only. Much of a boost and encouragement given to these sarees, by the Velugoti dynasty of Nellore and also by the Bobbili and Pithapuram dynasties, back then.




Pochampally Sarees and Fabric
Pochampally sarees are sheer delight for women! Magnificent Pochampally saree is called by varies names such as Pogudubandhu or Pochampalli Ikat, is a saree crafted in Bhoodan Pochampally, Yadadri Bhuvanagiri district, Telangana State, India. Pochampally, the village was renamed to Bhoodan Pochampally. This small traditional handloom village magnificently showered and surrounded by hills, lush green fields, temples, Pochampally makes up for an exciting destination to spend one's heart. This village is around 45Km away from Hyderabad.Telangana is one of the ancient Ikat weaving centers in India.Pochampally Ikat sarees was mainly popularized during 80's.Pochampally silk saree boasts of blending comfort and popularly known as tie and dye weave, one can see century old traditional looms here.




Guntur Sarees

The finest spicy Grandmother's attire, nostalgic saree!

Each thread narrates of a story that weaves into a magical saree, red hot Guntur city lies on the south eastern side of Hyderabad in Guntur district of Indian, state of Andhra Pradesh. This city residents are referred as Gunturians, purest forms of the language can be heard here is Telugu(regional language), English and Hindi are widely spoken as well. One can see largest Asian market for red chillies here, this place is main producer and renowned globally for exporting of most varieties of Chillies and chilli powder from India to countries like USA, UK, Latin America, Middle East, Sri Lanka, Bangladesh and South Korea. Majority of Indians a dish lacking in spice or without chillies is unfathomable. Andhra cuisine is famous for its extremely good dishes and the chilli responsible for this is the Guntur Sannam(Capsicum annuum)that's the secret behind Andra spicy dishes. If you are in Guntur, than one should not leave the city without tasting authentic super spicy Guntur's famous "Red chilli biryani", I can say, taste buds on fire! Guntur is also famous for Gongura pickle (Roselle is a plant) the leaf is used for pickling, writing about food oh my goodness I go crazy, it's a never endling story, lets see now about saree.



Karnataka

Banahatti Cotton Sarees
The most simplistic and minimalist hidden weaves from Karnataka is Banahatti Cotton Saree, I just loved the texture of the fabric, it's like linen saree? I don't know what more can I say about this saree. Well it is more deserved to seen in my Youtube video, do check it out!




Ilkal Cotton and Silk Sarees
Contemporary Ilkal sarees goes on a delightful weaves!

The most down to earth yet vibrant colors are seen in traditional attire of Ilkal, Ilkal is a small town, this town is located in the South-East part of Bagalkote district, Karnataka state, India. This place is very hot during the summers but has a pleasant weather during the winters. The language of communication here is Kannada. Ilkal was an ancient weaving centre and known for renowned handloom sarees. The main source of income comes from the 'Red granite' which is exported all around the world, while Ilkal sarees are secondary source of income for the people residing over there since generations. The availability of local raw materials helped in the growth of this saree.




Molakalmuru Cotton and Silk Sarees

Ancestral Molakalmuru with a modern twist!

Molakalmuru is a village panchayat town in Chitradurga district,Karnataka state, India. Molakalmuru is best known for its hand-woven silk sarees of exquisite design and craftsmanship It is said Maharaja Krishnaraja Wadiyar IV (Nalwadi Krishnaraja Wadiyar) during his visit to the place in 1914, he appreciated the finesse of these sarees. Molakalmuru means broken knees in Kannada(native regional language), according to a local legend, the town was thus named after a battle between the native Indians and the British, in which due to the rocky and hilly terrain behind the city, the British suffered many broken knees in their losing battle. which surrounds this town. Today it is just a history, historians believe that this name is merely a symbolic reference to the broken pride of the British. World famous for its renowned silk sarees as weaving is the major occupation of the place.




Hubli Cotton Sarees

One of the most traditional sarees which I had seen apart from Ilkal saree is Hubli cotton sarees, due extreme humidity generally localities adore this saree for daily bases. This is one of the simple weaves but I totally in love with this saree, the texture of the saree is so soft due to the high count of cotton yarn used.




Patteda Anchu handloom cotton Saree

Life to the an­cient looms an exclusive weave Patteda Anchu

I remember and recollect my childhood memories, I was just nutty about cotton sarees and fabrics, not only for comfort but for simplicity. I always love to be seamless in the crowd! My passion grew regardless of the age for hand-loom sarees, today I'm here to share one more simple weave from Karnataka called Patteda Anchu handloom cotton saree.

Traditional hand-loom sarees from Karnataka are Ilkal sarees, Molakalmuru sarees in addition to it Patteda Anchu cotton saree which joins the loop, these simple weaves is from Gajendragarh village in Gadag District.