My BLOGs :: Kanchipuram Double Border Saree - VLOG
Written by: Bindu Lakshmi Kankipati - Published: 30-Apr-2018
---
One of my vintage collection from Tamil Nadu is Kanchipuram Double Border Saree, it is a Beige color as you can see in the portrait and do check out for an overall look of the saree in my video of as well. It has that charm of subtle look yet gives that opulence. In a nutshell, I can say it's the best match for your temple wedding( muhurtham silk saree) gives that complete finish of that traditional look and feel with antique temple jewelry. This is my one of my wedding saree as well which I had shopped for which has a 'Double Border' the first border is bottle green in color with thread work and the second border is a blend of Zari( Gold, deep maroon and bottle green) as well. This saree credit goes to my dad since he selected this wonderful piece of art. When I go deep about this saree, the base of the saree has the emboss stamp a design(beige color) with leaf and other elements as well and when it comes to the pallu area it has Swan's bird motifs. The price of the saree depends on the highly crafted(Pallu) and the Zari, quality of the yarns used and man hours spend of this particular saree, the technical aspect of the saree how they have interlocked(how the main body of the saree and pallu), this saree is on a trend right now in most of the celebrity closet as well!
Watch Video: Here is my VLOG: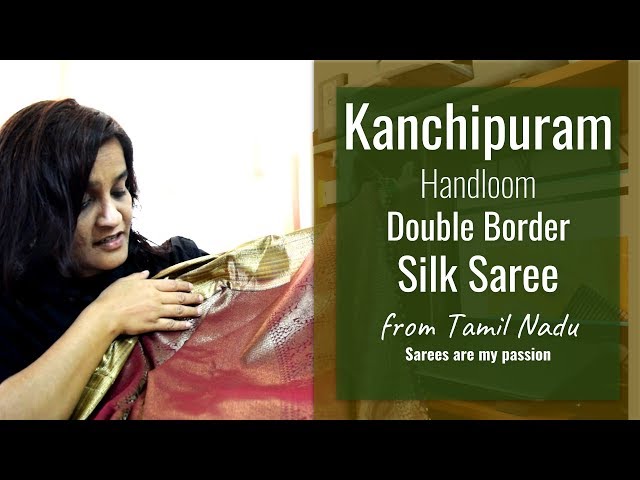 * Click the image above to watch this video on Youtube ↗
if you are running a Saree Venture or looking to start a new Saree Store, Saree Boutique, Online Business, wish to start and grow a successful business, you can advertise with us !
consultation services and support regarding Saree business, product strategy, business positioning, guidance and mentorship
if you are facing issues in your Saree business and looking for Counselling and professional assistance
or if you wish to Partner, Collaborate & Sponsor
Contact us: HERE
---
Suggested Topics:
My Blogs
Ilkal Handloom Chikki Paras Saree from Karnataka - VLOG ↗

Handloom sarees are one of the most classic ones and will never go out of fashion no matter what new sarees comes in trend. In Karnataka there are so many such sarees which are yet to come to the light, I'm trying to reach via my blog post and my youtube channel Sarees are my passion to educate, discover and learn about sarees. Here is one such Vintage Ilkal Saree from Bagalkot district of Karnataka state. Check out this graceful saree from the video link.
How to start a Saree Business ↗
No border (without border or borderless) designer Kanchipuram Saree ↗

Romance in Moonlight is one of my handpicked saree for my 'Reception' during my wedding, what I really love about this saree is the hues are just apt since it was an evening event. I had a personal perception I would look short, but I'm 'neither tall' nor 'short', I picked this saree for the combination of colors, the peacocks, they generally call this variety of saree as 'No border' or 'Without border' designer saree, all I had in my mind was I would look a bit taller and this saree really did justice for what I wanted.
Printed Silk Saree ↗

The Saree, which does not go out of fashion

Florals are back again this season when fashion consultants start a trend to get back all the blossom floral prints time again new fashion vibes to take off...Here is a fresh light weight floral printed silk saree, which is featherweight, easy to drape and which does not go out of fashion!
Sambalpuri Ikkat Silk Saree - VLOG ↗

Its been a very long time and I'm back with my notes on traditional classic weave from Odissa which is Sambalpuri Ikkat silk saree, this saree is a bit heavy and all the traditional elements like Rudraksha, fish motifs and many more you can see, check out my latest update and experience the glory of this beauty!
My Saree Tassels ↗

Tassels are the finishing feature on fabric or any other clothing decoration! My wedding bells was around the corner, I was all alone to decide things, I made a checklist and I started one by one, ticking which was done and making a note which has to get complete, finally it was the turn of Tassels, so I decided based on the saree and blouse(Upper garment) to add a mix and match of silk threads and some additional ornamentation with some beads as well, but my designer was well talented and she knew what I wanted exactly and finished the work on time!
Kanchipuram Double Border Saree - VLOG ↗

One of my vintage collection from Tamil Nadu is Kanchipuram Double Border Saree, it is a Beige color as you can see in the portrait and do check out for an overall look of the saree in my video of as well. It has that charm of subtle look yet gives that opulence.
Kanchi Cotton Saree - VLOG ↗

Every South Indian most desired silk saree is Kanchipuram, of course, I do love it too the core because of its elegance, traditional values, colors which makes this silk saree outstanding. Apart from Kanchipuram silk saree Tamil Nadu textiles have one more interesting cotton version of saree called as Kanchi Cotton Saree do experience this exquisite masterpiece in my video.
Patteda Anchu Saree ↗

I never heard of Patteda Anchu Saree before

Well, many of them are not aware of this weave in the same state, it's an irony. Lack of awareness and less usage leads to this stage. It was in the year 2016 I first saw the Patteda Anchu Saree ...
What sarees to wear to rock on festive look in 2019 ↗

Sarees are one of the most respected outfits and could be worn at many appearances. Best part about saree is that they never go out of style and look decent all times. When we talk about different fabrics of saris available in India then the list could be just countless. Best part of sari is that will make you look cultural also at contemporary at same times. Here are few things to remember if you are shopping saree and wearing it for the first time. Some of varied tips and types in fabrics of saris are as follows:-
Why Handpicked sarees are sold like hotcakes? ↗

It was one of the most humid days of summer in March, Bangalore and all of a sudden earthy mud smell ha being 'Taurus' sun sign I really love to play in the mud, and with natures basket, it might also include rain as well and slightly it drizzled it was first rainfall of a season and I had this topic in mind for a long time, having a cup of green tea to refresh me, so now so let's get started.